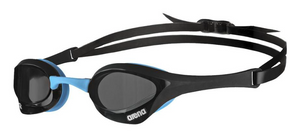 ARENA COBRA ULTRA SWIPE DARK-SMOKE.BLACK,BLUE
The Blue Silver Arena Cobra Ultra Swipe racing goggles in gold are one of the newest member of the Arena family.  With low profile yellow copper mirrored lenses, high-tech moulding and a blade shape, the Cobra Ultra Swipe goggle design minimizes drag and improves glide in a sleek, watertight design.  The Swipe's unique feature is the best anti-fog technology available. When goggles become foggy, gently swipe the inner lenses with your fingertip while the goggles are in the water and enjoy clear vision for longer.
They are also hydrodynamic perfection!! Not only will you swim faster, moreover you will also see better. The curved lens shape in the Cobra Ultra Swipe provides great peripheral and frontal vision for an expanded field of view. They are equipped with a dual silicone strap, also 5 interchangeable nose bridges and Arena's RFA back clip.  With a super secure and customized fit you can without reservation dive in confidently every time!
---
We Also Recommend