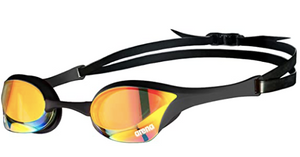 ARENA COBRA ULTRA SWIPE MIRROR GOGGLES
Say hello to Cobra Swipe Mirror Yellow/Copper/Pink,  one of the newest members of the Arena goggle family.
These goggles are hydrodynamically perfect, thanks to low profile mirror lenses, moulding and a blade shape drag is minimized within a watertight design.
Allowing you to swim faster and see better, the curved mirror lens opens up peripheral and frontal vision for a greater field of view. The lens itself is made of hard polycarbonate with an anti-fog coating for clear underwater vision.
The goggle also features a dual strap design, 5 interchangeable nose bridges and Arenas proprietary RFA strap clip.
Composition: 70% Polycarbonate 20% Silicone 10% Thermoplastic Elastomer
---
We Also Recommend